Our era is a case study of how racism leads to authoritarianism.
Racism is the easiest quid pro quo between crook-demagogues and a racist base: The crook offers a racist agenda in return for carte-blanche for any crimes, election rigging & corruption. The deal between devils.
I know this may sound obvious. But this deal between devils helps us understand this week, when so many Republicans in Congress 
were so shameless in making statements that both they and their constituents know to be false. I've been thinking about this paper by Ezra Zuckerman Sivan, Oliver

Hahl, and Minjae Kim all week: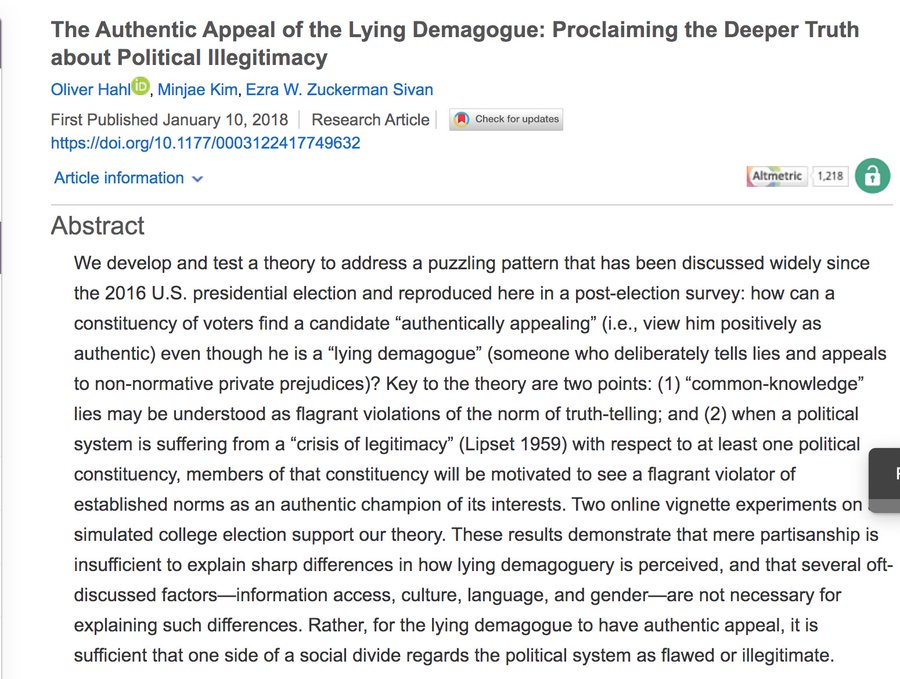 Here's their huge question:
Why would a constituency of voters find a candidate "authentic" even though they know he is a "lying demagogue" (tells lies and appeals to bias/private prejudices)?
And here's their big answer:
For voters who want to dramatically change norms and upend the establishment political system, lying is a feature, not a bug.
(1) "Common-knowledge" lies are flagrant violations of norms; and
(2) when a system is suffering from a "crisis of legitimacy" for a constituency, that constituency is motivated to see a flagrant violator as its authentic champion.
The constituency who sees a system as illegitimate wants a leader who will blow up those illegitimate norms. That constituency will see a leader who shares their values and also flagrantly lies as a more authentic norms-shredder.
The more willing that leader is to lie about basic facts for the cause, the more sincere that leader is willing to fight for their anti-establishment cause. Lying about basic facts signals a deeper commitment to the bigger agenda: blowing up an illegitimate system: Draining swamps. Building walls.
#MAGA
.
A racist base more than just tolerates lying. They reward it. The lies are signals of the leader's commitment to overturning an "illegitimate" system (and fighting that system's elites). As some leaders are rewarded for lying (Trump), others learn to follow.

Shocked by just how far Lindsey Graham, Devin Nunes, Jim J
ordan, John Ratcliffe, Elise Stefanik
, Sen. John Kennedy, etc., would go to flagrantly lie?
They've learned not only that there is no cost to lying… They see huge rewards with their racist base. It's a signal they authentically fight their fight.
Historical notes:
Highly recommended reading: Hannah Arendt, The Origins of Totalitarianism, on the Nazis and Stalinist Soviets.
Some authoritarian regimes are more racist than others. The Italian Fascists were not as murderously racist as the Nazis, but racism played a signficant role in Mussolini's rise and consolidation of power. 
Throughout the 1920s, Mussolini made racist claims about the global threat from non-whites to whites, and he dehumanized Slavs, Slovenes, and Croats. 
Before the outbreak of war, Mussolini endorsed the "Manifesto on Race," which stated: "It is time that Italians proclaim themselves to be openly racist."
Ruth Ben-Ghiat
shows
that anti-Semitism did not play a major role in Mussolini's rise. Only after the Axis pact with Hitler did Mussolini openly champion anti-Semitism.
In 1919, Mussolini asserted that 80% of the Soviet leaders were Jews, and absurdly that Jewish bankers in London and New York City supported the rise of the Soviets. (See the flagrantly absurd lie as signal of authentic championing?) But these claims met with backlash among other Fascists, and Mussolini backed off. 
Racism played a significant role in Japanese imperialism, authoritarianism, and the build-up to World War II.
More reading:
Mark Neocleous, Fascism (1997), Aaron Gillette. Racial Theories in Fascist Italy (2002).